For some reason, this last week I've found myself on the wrong side of the law. First there was the ticket for my expired registration, then I received a letter in the mail from the courts. Jury Duty.
I had received a questionnaire some time back and filled it out with all of the reasons I couldn't serve. Apparently, they weren't good enough. So I received a summons to appear for today. I have been sick all week thinking about it. Don't get me wrong, I think jury duty is a good thing and that people need to have a panel of their peers viewing their case and making a decision. I just don't think we should
have
to and that choosing not to shouldn't be
"punishable by law
."
I was physically sick. Many trips to the bathroom and a letter to the judge later, I still hadn't heard anything. I called in last night at 6:01 - the letter said I had to wait until 6:00 - to find out if I had to appear and I didn't have to. I called three times - once I stuck my hubby on the phone to listen - just to be sure I had heard right. Whew! I have served Jury Duty before, and I will gladly serve again, when my littlest one is older.
The ticket really had me feeling like I didn't have a choice in the matter, then again, but one could argue that it was my choice to drive the van to the mechanic with an expired registration. This time, I didn't do anything wrong, but I felt like I was being sent to the principles office. How did I, good little April, end up in front of judges? Umph.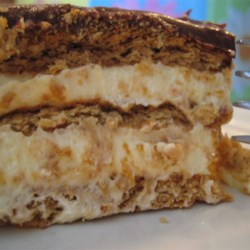 Anyway, all the walking that I've been doing lately has had this wonderful benefit of being able to have guilt free desserts. Like this
Eclair Cake
. It is really, really good. And for all of my friends in the desert, there is no baking/heating up your house involved. (Did you hear that Em...no baking, you could totally do this one!) It's just pudding mix, milk, cool whip, graham crackers and chocolate frosting. You do have to wait 4 hours to eat it...I had a piece after just an hour, but the graham crackers were still too crunchy. Waiting that extra time was worth it. So good.
Well, off to sew more
pads
. Tomorrow is Earth Day after all :)